Are you looking for a decent return on your money? Have you ever considered investing in mortgages? No, I'm not talking about becoming a landlord. I'm referring to another, more passive way to invest – private mortgage lenders.
With the global financial crisis of 2008/2009 came challenges. Getting a decent rate of return in a low-interest rate environment isn't easy. But with the financial crisis also came opportunities.
One of those opportunities is in private mortgages.
In response to the global financial crisis, regulators have been tightening the availability of credit for years. More recently we've seen the introduction of the mortgage stress test, whereby a borrower must prove that they can afford the greater of either 2% above their qualifying rate, or the five-year Bank of Canada benchmark rate.
Due to the mortgage stress test and stricter documentation requirements, borrowers who were once able to qualify with A lenders, are being forced to seek out financing from alternative lenders. In turn, the alternative mortgage market has seen tremendous growth in recent years in Canada.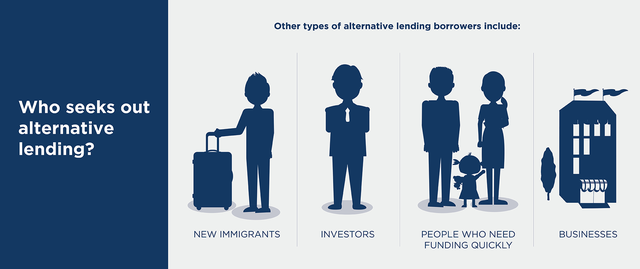 Who seeks out alternative lending?
Now, when you think of an alternative borrower, you probably picture someone with bruised credit who has filed a consumer proposal or for bankruptcy. While that's one type of borrower, other types of borrowers include new immigrants, investors, people who need funding quickly, and businesses.
These borrowers may have perfectly fine credit!
Small business is the backbone of Canada's economy, yet small business owners may have a tough time obtaining a mortgage with an A lender. As a small business owner, you typically want to minimize your taxable income. While this helps lessen the amount of income tax you'll pay, the downside is that it makes it tougher to qualify for a mortgage.
That's when a small business owner may seek financing from private mortgage lenders to help fill the void.
Growth in private lending
We've seen an interesting scenario play out in the institutional alternative lending space over the last year. This space is dominated by two lenders: Equitable Bank and Home Trust. As you may have heard in news headline, Home Trust ran into some trouble with the regulators, causing investor confidence to be shaken.
This situation has caused money to shift from institutional alternative lenders to private mortgage lenders. Because of it, we should see strong growth in private lending for the years to come.
What's needed to start investing in private mortgages?
Private mortgages are popular with wealthy individuals who are looking for a higher investment return outside of traditional investments.
Private mortgages require a larger initial investment than a guaranteed investment certificate (GIC) or mutual fund. You'll typically need at least $100,000 to invest in a first or second mortgage.
Mortgage investment corporations (MICs) and private mortgage lenders made up about 10% of all new residential mortgages in Ontario in 2017. Because the loans are typically small, private mortgages only accounted for 6% of the value of new residential mortgages. Despite the small amount, private mortgages still present a good opportunity for investors looking for a decent rate of return.
What are the risks of private mortgages?
Private mortgages are usually short-term in nature. Unlike a standard mortgage that's amortized over 25 years, private mortgages are typically only for a one year term with interest-only payments.
Because of the shorter timeframe, you can expect a higher rate of return on a private mortgage. For instance, our Mortgage Investor Group typically achieves ROIs between 6 and 18% depending on your risk tolerances.
Unlike a stock, when you invest in a private mortgage, like a bond, you're investing in an asset that you can touch and feel and that has a verifiable value by way of an appraisal. But with every investment comes risks.
The biggest risk when investing in a private mortgage is what if the borrower defaults on the loan. The good news is that this is pretty uncommon. Families don't want to lose their home to private mortgage lenders, especially in Canada which has one of the world's lowest default rates historically on mortgage debt.
They'll do everything in their power to make their mortgage payments.
It helps to invest with an experienced partner in private mortgages. If you're partnering with a private mortgage company, they are the ones who will conduct all the due diligence on your behalf. With the potential for up to a 16 percent return, private mortgages are worth serious consideration.