When you think of mortgages, the first thing that likely comes to mind for the source of these funds are the banks and credit unions. While it's true that the banks and credit unions lend out the bulk of mortgage funds in Canada, borrowers are increasingly turning to alternative lending sources, such as private mortgages, to fulfil their borrowing needs in a tightening lending environment.
Under the new B-20 mortgage underwriting guidelines introduced by Office of the Superintendent of Financial Institutions (OSFI) at the beginning of the year, borrowers must now pass a new mortgage stress test. A borrower must prove that they can afford the greater of either 2% above their qualifying rate, or the five-year Bank of Canada benchmark rate (currently 5.34%).
So what does this mean for high net-worth individuals, family offices, pension funds, and others who are searching for yield amidst a backdrop of historically low interest rates? Let's take a closer look.
An opportunity for accredited investors
In the Bank of Canada's opening statement released last year, our central bank estimated that the new mortgage rules could disqualify 1 in 10 Canadian borrowers from obtaining a mortgage from traditional lenders. And, in Canada's more expensive real estate markets, such as Toronto and Vancouver, this ratio jumps to 1 in 8 borrowers being excluded.
Some of those non-prime borrowers will undoubtedly turn to private lending. This is good news for those who are able to leverage private mortgages for investment purposes. These include accredited investors, family offices, private trusts, foundations, amongst others.
In the Financial System Review, the Bank of Canada found that the volume of lending for private mortgages has remained stable at a little more than $2 billion per quarter. While the market share of private mortgage lending in Greater Toronto Area (GTA) has increased by almost 8% of new mortgages, the volume of private lending has remained stable in the past year.
That being said, private lending has and will continue to grow given the tightening of mortgage rules for traditional lenders, making it one of the best investments in Canada for high net-worth investors and professionals. With more borrowers turning to private lenders to fulfil their mortgage lending needs, it's an interesting new opportunity for investors hungry for yield.
Let's look at what a private mortgage is and why private lending investing can improve your yields.
Why a private mortgage?
As sophisticated investors, we are all aware of the basic idea behind a private mortgage. Simply put, unlike a traditional mortgage, where the lender is a bank, credit union or monoline lender, with a private mortgage the funds are loaned out by accredited investors.
Borrowers are increasingly turning to the private lending space because they no longer qualify under the new stress test or they have impaired credit. A private mortgage is ideal in these situations since instead of relying on a borrower's credit and income, a private mortgage is typically based on the property's value and marketability.
Beyond the increasing popularity, private mortgage investing brings several other benefits to professional investors.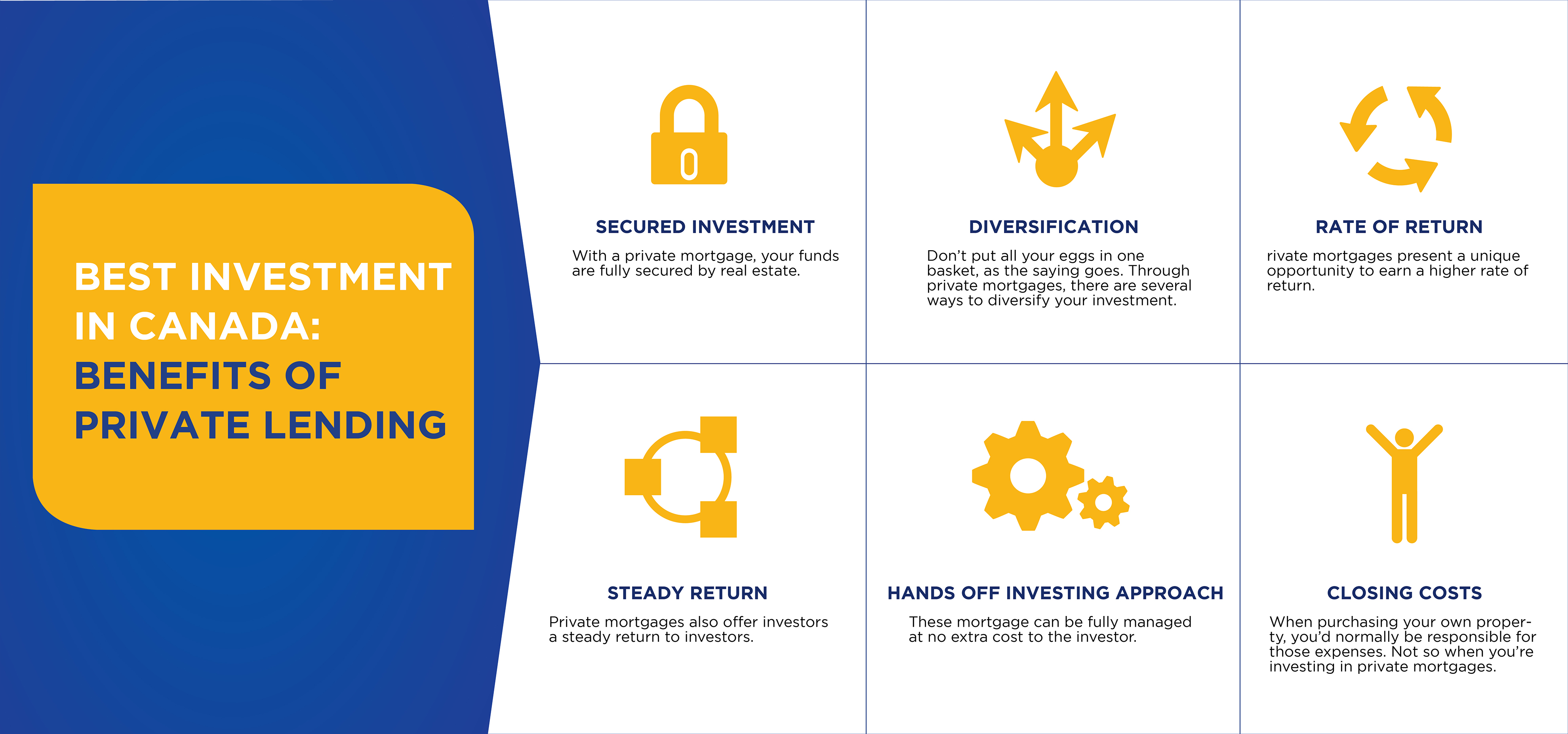 Best investment in Canada: Benefits of private lending
Maintaining a robust portfolio can be complicated at times, particularly amidst market and political uncertainty. Here are several benefits of private mortgage lending that high net-worth professionals should consider.
Secured investment
With a private mortgage, your funds are fully secured by real estate. To further protect yourself, if you're partnering with a private mortgage fund, they are the ones who will conduct all the due diligence on your behalf.
Diversification
As sophisticated investors, diversification is nothing new to us. Don't put all your eggs in one basket, as the saying goes. Through private mortgages, there are several ways to diversify your investment.
You can invest in properties all across Canada, break your loan up into multiple loans, and invest in 1st and 2nd mortgages, to name a few. This is only scratching the surface.
Rate of return
In the perpetually low interest rate environment, it can be tough to earn a decent rate of return without taking on a lot of extra risks. Private mortgages present a unique opportunity to earn a higher rate of return.
For instance, our Mortgage Investor Group typically achieves ROIs between 6 and 18% depending on your risk tolerances. Furthermore, you're provided with the information up front so that you can make an informed decision in your best interest.
Steady return
Private mortgages also offer investors a steady return to investors. The borrower is required to make monthly income payments, providing the investor with a steady cash flow. Private mortgages can also be held within your RRSP to help lessen your tax burden.
Hands off investing approach
As investing professionals we have enough on our plate, and day-to-day management of investments classes is not something many want to take on. With private mortgages, you don't have to.
These mortgages can be fully managed at no extra cost to the investor. You can remain secured on title and the payments come directly to you, providing you with the maximum in transparency and security. Or, if engaging with a private mortgage fund, all of the payments and managing the borrower is handled entirely by the fund itself.
Closing costs
The transactional costs of real estate investing can be quite high. There are land transfer tax, real estate lawyer fees and mortgage penalties, to name a few. When purchasing your own property, you'd normally be responsible for those expenses.
Not so when you're investing in private mortgages. The borrower is fully responsible for covering all closing costs, maximizing your cash flow and enhancing your return.
As you can see, there are a number of benefits that make private lending one of the best investments in Canada for sophisticated investors. Trusts, family offices, accredited investors, and even pension funds are increasingly moving to the private mortgage investment class in search of diversification, yield, and investment security.
Investment professionals who are looking to capitalize on the new mortgage rule tightening in Canada, and have a secured asset tied to their investment, should seriously consider investing in private mortgages.